Should I Buy a Down Sleeping Bag?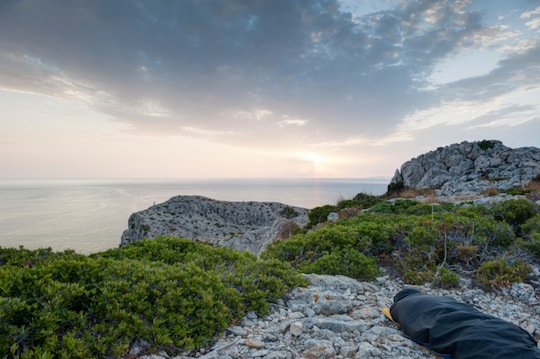 I grew up with a down sleeping bag and loved it. Today, man-made, engineered fibers are as good as down… well, almost. There are many variables to consider, including where one is packing, the weather conditions, carry weight, and of course COST.
Please be aware that there are several types of down and each has different characteristics. Also, the Chinese factories hand cut the feathers differently, so make sure you do not have spines poking through the lining to bother you.
Remember, your body heat is what heats the sleeping bag. If you are hiking along the ocean trails, one can freeze in a down bag. Down is hydrophilic; that means the feathers absorb moisture – from your body, from the air, and through the lining. I have encountered numerous hikers who have experienced hypothermia because their down sleeping bag and/or their down jacket became saturated/wet. Even with water repellant coating, the feathers will absorb moisture.
If you are on a two week hike on the PCT (Pacific Crest Trail) in June, then a down bag is ideal because a two pound bag will keep you warm in the dry June conditions. But do not try this in late July or August when it can rain every day!
Lastly, cost must be considered. While some "down" bags are advertised under $200, these are not white goose down or highly compressed down, and may lack additional comfort components, such as the neck and chest baffles.
I know one major company which advertises 100% down, except when closely examined and questioned, they admitted that 80% of the bag filling was gray goose down. This means 20% is filled with (?) and the baffles along the zipper, check and neck were stuffed with synthetic material. Their comment was that it would cost too much to fill the entire bag with down, let alone white goose down! A good, real goose down bag with a 600+ filling pressure will, probably cost around $600.
If you're not ready and/or willing to spend that kind of money, check out some great alternatives on our site here, and give me a call at 800-600-3500 with any other specific questions you may have!
Have fun and be safe!
- Jerry "The Gear Guy"